Started UPSem 2010: Rev. Charmaine Smith (MDiv 2017)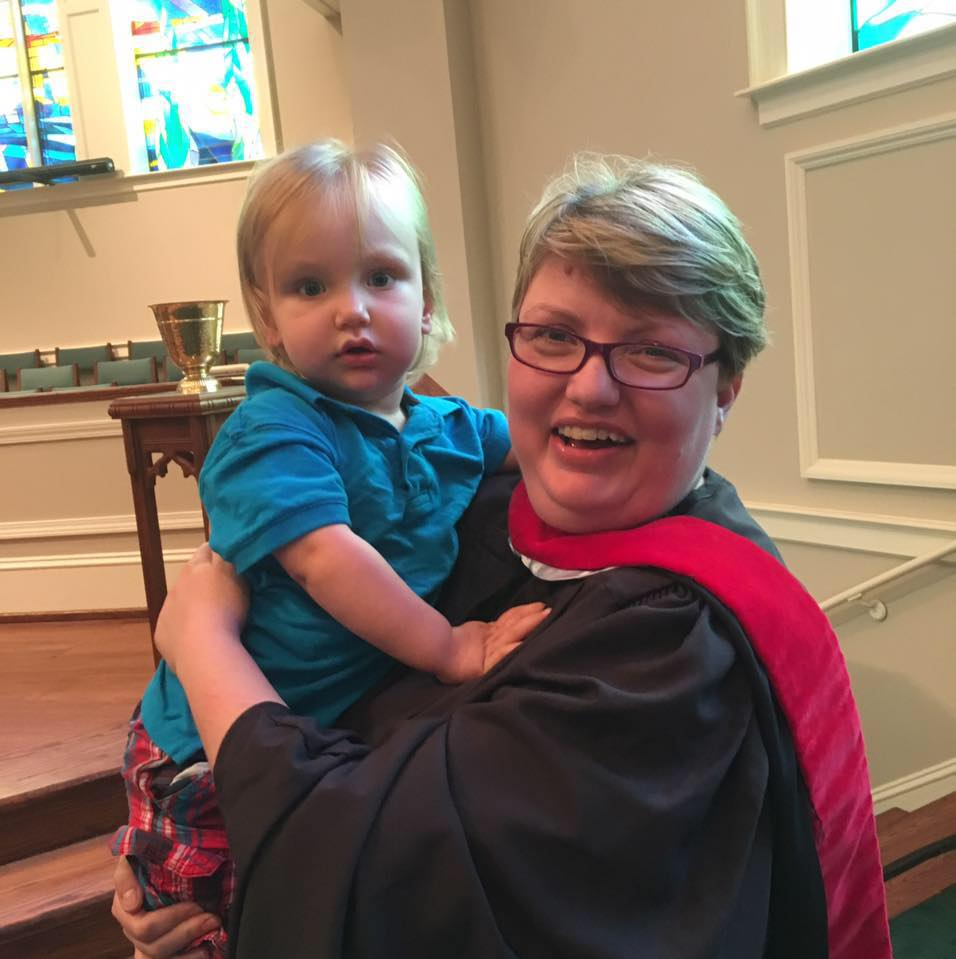 The following is part of a series of 20 profiles that represent each year that Charlotte has been enrolling students. 
Stated Supply Pastor
Laurens County Presbyterian Churches
Clinton, South Carolina
A child of the South, Rev. Charmaine Smith (MDiv 2017) was born in Nashville, Tennessee, grew up in Mississippi and Florida, and now lives in Clinton, South Carolina. Growing up, her family was large and layered. In her words, "I am my father's only child. I was raised primarily by my father and my stepmother. I have three step-siblings — who are not 'step' siblings to me. And, I have a half-brother — who is not at all a 'half.'" As an adult, she has one son whom she describes as "the center of my world. He comes only a close second to God on my list of dearest loves."
Consumed by words and stories, Smith's first career was in journalism, a subject she studied at the University of Tennessee in Knoxville.
She was called to seminary while working as a Christian educator. The questions asked by her youth led her to want to know more about the stories of God and God's people she was teaching on Sundays. In wanting to know those stories better, she found Union Presbyterian Seminary Charlotte to be a comfortable fit and a friendly companion in the next chapter of her life. She recalls, "I chose Union because of three things: 1) Former dean Tom Currie, and his ability to put me at ease immediately. 2) The ability to share the financial costs of attending seminary with the Presbytery, my home church, and the seminary was crucial. 3) The Saturday schedule made it possible. I was not in a place where I could afford to quit my full-time job and attend seminary full-time, and I needed more time to discern God's will for my life before making such an important switch in vocation."
That Saturday schedule helped build a community because most everyone was together each week for classes, chapel, and a common meal. As students in Charlotte enroll, they join a cohort with whom they study and share life during their seminary education. This cohort education model is vital to the success of UPSem Charlotte. Smith concludes, "I am still very connected to those in my cohort, those who pulled me through those dark valleys and celebrated with me on the mountain tops. This cohort model is essential, I think, to the strength of the community at the Charlotte campus." Smith appreciates the necessity of the Charlotte campus well beyond her years of being a student. For her, the very existence of the Charlotte campus means people like her can pursue the call. "We need what Charlotte offers. I would not have been able to gain a seminary education if it were not for Union Presbyterian Seminary Charlotte."
Following graduation from UPSem Charlotte, Smith was ordained in the PC(USA). After serving various churches in different roles, she is currently the Stated Supply Pastor for three churches in Laurens County, South Carolina.