Bringing Good News
40 Stories of Congregations and the Ministries that Transformed Them
Bringing Good News: 40 Stories of Congregations and the Ministries that Transformed Them celebrates innovative ministry programs around the country. It is compiled by Professor Emeritus of Christian Education Henry Simmons and Certified Christian Educator Rita Boyer (M.A.C.E.'10), Prospect Presbyterian Church in New Jersey.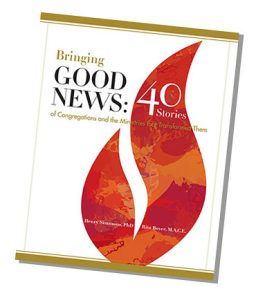 "This book is a testament to every level of leadership in congregations small and large," says Simmons. "It recognizes these congregations' resolve to follow God's lead into new, often imaginative, always responsive kinds of ministry."
Drawn directly from applications from over the years for the Union Presbyterian Seminary Congregational Leadership Awards, these stories invite the reader to hear the authentic voices of those involved. The stories come from diverse congregations – all sizes, urban and rural – possessing varying amounts of resources.
"They describe effective ministries that met the needs of particular people at particular times and places," offers Boyer. "That is the moment in time captured in these narratives."
Available on Amazon and through Kindle. All proceeds will benefit the Sara P. Little and Eugene Lewis and Willene Asbury Tarry Chair of Christian Education.