History
Union Presbyterian Seminary, one of 10 theological schools of the Presbyterian Church (U.S.A.), was founded in 1812 as a theological adjunct of Hampden-Sydney College in central Virginia. Since our founding, we have served the church by educating pastors and teachers, missionaries, and scholars for service to Christ and the world. The "Union" in our name represents the partnership of the synods of Virginia and North Carolina on behalf of theological education.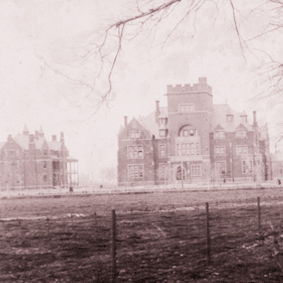 Since 1898, we have been located in Richmond, Virginia. In 1997, Union Theological Seminary federated with the Presbyterian School of Christian Education to become Union-PSCE. The Presbyterian School of Christian Education had been established in 1914 as the Assembly's Training School for Lay Workers. Its name was changed to the Presbyterian School of Christian Education in 1959. In July 2010, Union-PSCE changed its name to Union Presbyterian Seminary to reflect a collective vision for the future and to signify the new creation that God is forming out of this historic seminary.
In 2014, we celebrated the centennial of ATS and PSCE.
In 2002, at the invitation of four presbyteries in North Carolina and one in South Carolina, Union Presbyterian Seminary began holding classes at the new seminary extension on the campus of Queens University. In 2012, classes moved to a state-of-the-art facility on the campus of Sharon Presbyterian Church. Our Charlotte campus provides students with a unique learning opportunity born out of the vision of faith communities in North and South Carolina. These Presbyterian leaders, both clergy and lay people, discerned a need for a local seminary to provide for education of future pastors and educators in the church. Their vision was to enable non-traditional students with a call to ministry to pursue this theological training without having to relocate to a traditional residential seminary.
A task force was appointed by Charlotte Presbytery, with representation from the four contiguous presbyteries, which reported:
There were 133,000 Presbyterians within a 100-mile radius of Charlotte
Larger percentages of seminary students were second career students
Local access to theological education was highly influential in a candidate's decision to attend seminary
More African-American Presbyterians were in Charlotte than any other place in the country
Many then-candidates under care of Charlotte Presbytery were attending a non-PCUSA seminary
To meet this need, these leaders answered the challenge to establish a seminary in Charlotte:
Five presbyteries (Charlotte, Salem, Western Carolina, Coastal Carolina, and Providence) invited (then) Union-PSCE to offer a part-time,  non-residential program in Charlotte
Queens University (then Queens College) offered space for offices and classrooms at minimal cost for weekend and evening classes
In May 2000, Union-PSCE voted unanimously to begin the Charlotte program
Two degrees were offered: M.Div. and M.A.C.E. (A dual degree M.Div./M.A.C.E. has since been added)
Four full-time faculty were hired, augmented by adjunct faculty from area:
Richard N. Boyce – Preaching and Pastoral Leadership
Thomas W. Currie III – Theology, Dean of UPSem Charlotte
Pamela Mitchell Legg – Christian Education
Rodney S. Sadler, Jr. – Bible
Richard B. Vinson – New Testament (Recently added to the faculty as an Affiliate Professor)
Our Charlotte program soon became a reality. Classes began in February 2002 with a Genesis cohort of 22 students. An additional cohort was admitted in the fall of 2002 and each subsequent fall. Full accreditation was achieved in 2005. And a regional presence was established with students coming from 13 presbyteries and seven states.
---
Celebrating 200 years
"A Copious Fountain" tells our 200 year-old story. This systematic history gives cultural and historical context to the school through its bicentennial year. Combining research, photographs, and primary source documents, Adjunct Professor of Church History William B. Sweetser Jr's book celebrates the enduring influence of Union Presbyterian Seminary in the church and beyond.
Appendix 1 – Original Library Books
Appendix 2 – SMI Student Protest
Appendix 3 – Directors and Trustees
Appendix 4 – Officers of the Board
Appendix 5 – Presidents
Appendix 6 – Professors
Appendix 7 – Sprunt Lectures
Appendix 8 – Buildings with Photos