4 things about Sam Shields' summer break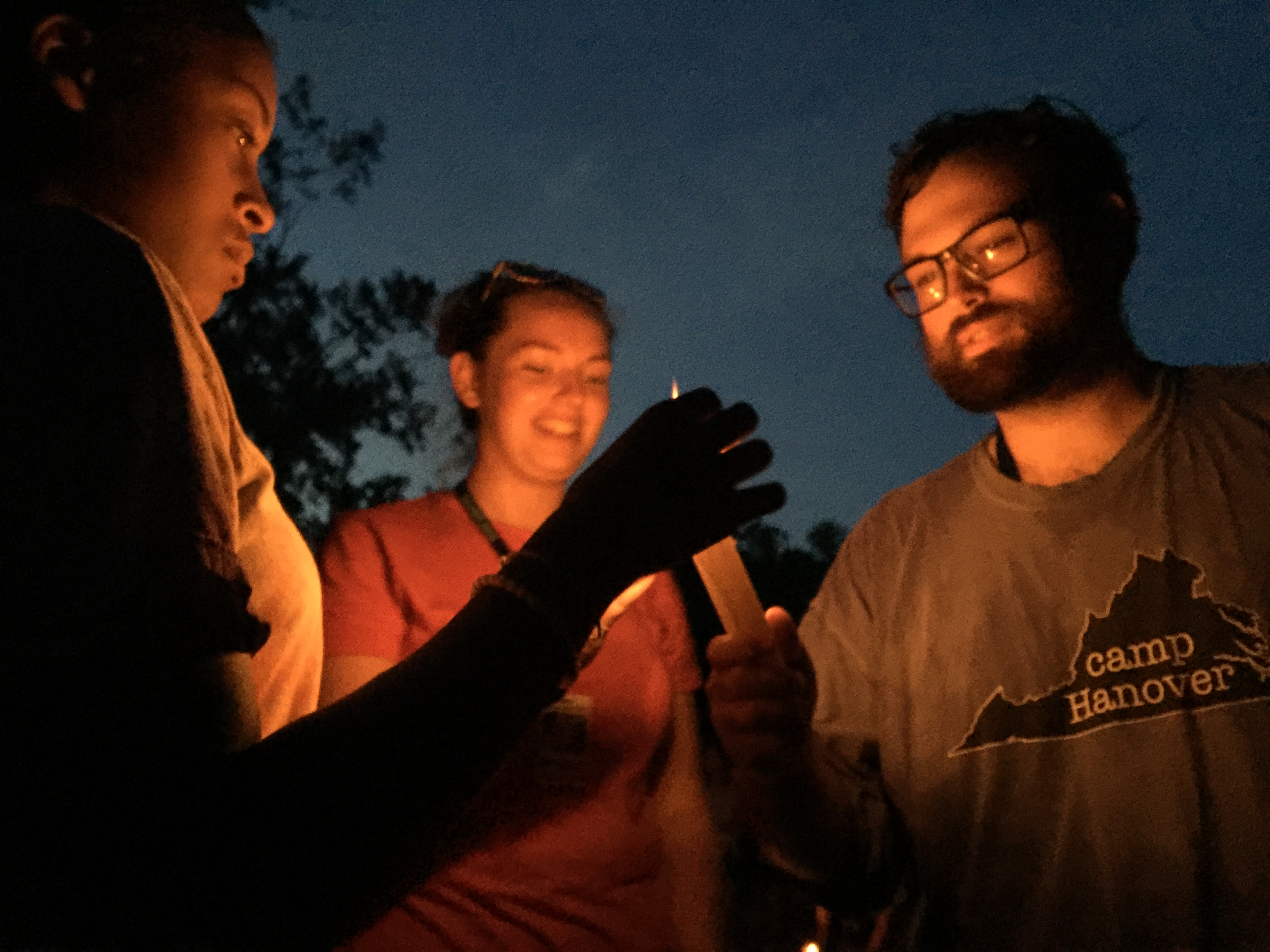 During the summer months, our students work, intern, or study in a variety of settings, often earning course credit and learning what it means to be the Church in the World. Some stay near campus, while others move away for a few months. On the blog this summer, we are featuring some of our students and the work they're doing. This week we feature M.Div. student Sam Shields.
By M.A.C.E. / M.Div. student Rosy Robson
Rosy Robson:  Where are you and what are you doing this summer?
Sam Shields:  This summer I have the privilege of serving Camp Hanover as the Camp Chaplain. While working alongside a different pastor each week leading Bible studies, morning devotions, and evening worship, my primary focus is to provide pastoral care to campers and staff over the entire summer camp season. This job qualifies as my Church in the World requirement under community engagement, but I have come to understand the responsibility as chaplain as much more interdisciplinary than neatly defined course descriptions (which believe me, I love a well-defined syllabus). In this position, I have used my undergraduate Christian Education degree and teachings from every course from my first year at Union, just within the span of Staff Orientation and Week One.
RR:  How does this summer's job/activity/study fit into your larger education at Union?
SS:  Since reading "Will Our Children Have Faith?" by John H. Westerhoff in undergrad I have had a fascination with how children, youth, and young adults interpret and express their faith, especially in a time where communication is the fastest it has ever been, and during a time where mainline Protestant faith expression is often a mumble in a crowd of shouting. I have heard from the campers and staff a need to name the problems in their worlds and our world within a religious context. There is this sense of yearning that makes me think of Dr. Samuel Balentine's description of the yearning for wisdom that stirs in the gut, flutters the heart, and bewilders the mind. With the calamity that campers and staff see in their lives and in the world, the void of a religious context becomes a point of frustration.
RR:  Why is this job/activity/study important for the future of the church?
SS:  This summer's curriculum (written by final-level student Colleen Earp) focuses on Micah 6:8, showing that in the midst of calamity it is our calling to provide a mouth piece for the voiceless to speak, through naming the injustices in our world, so that we may further establish God's peaceable and equitable kingdom. Just as Micah advocated for those cast aside by arbitrary societal structures, we are called as the church to stand with those who have no representation, whether it be in their homes, in their schools, in their work, or in their lives. As a chaplain, I hold both through teaching the curriculum and more "formal" care giving/receiving conversations a responsibility to the voiceless, providing a space for their voices to be heard. This is done through campers leading parts in worship, prayer stations, and through listening to concerns shared throughout the week. Like the Paraclete, I walk beside these people, aiding in their journey, wherever that journey may be.
RR:  What exciting insights or learnings have you gained so far?
SS:  Wilderness in a biblical context has acted as a place of retreat, identity growth, and contemplation from testament to testament with humanity constantly weaving between population centers and wilderness. From the maturation, out of the garden in Genesis, to the Hebrew people in their Exodus becoming the Israelites, to even Christ's Spirit-driven trek into the wilderness for temptation and as respite from the stressors of his ministry, wilderness helps us contextualize our communities and our ways of living. In our time when the church seems to be dumbfounded on how to keep up with the ever-changing world, wilderness provides all people the blessing to gather their words and name their realities. Camp Hanover, as it has provided wilderness for sixty years, continues to do so today. Whether that wilderness is hearing the prayer concerns of the painful, canoeing the waterways of Virginia, breathing the crisp forest air early in the morning, or eating chocolate chip cookie ice cream sandwiches after a two-week work session, people here at Camp Hanover rediscover that they belong, and to whom they belong. And that newfound identity is a step of renewal on the trail ahead of the church to which I am forever grateful to be a part of as chaplain this summer.
Related Stories