6 things about Alex Abdalla's summer break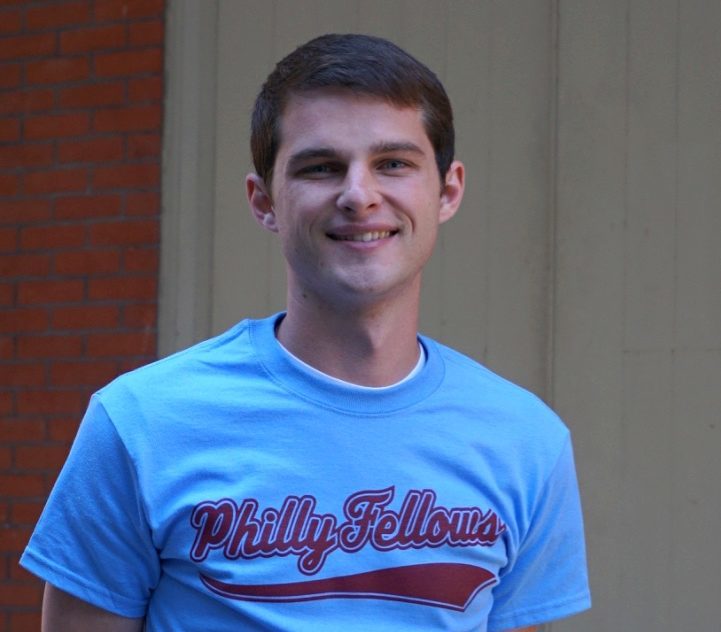 During the summer months, our students work, intern, or study in a variety of settings, often earning course credit and learning what it means to be the Church in the World. Some stay near campus, while others move away for a few months. On the blog this summer, we are featuring some of our students and the work they're doing. This week we feature M.Div. student Alex Abdalla.
By M.A.C.E. / M.Div. student Rosy Robson
Rosy Robson:  Where are you and what are you doing this summer?
Alex Abdalla:  I am interning at Broad Street Ministry in Philadelphia, Pennsylvania. Broad Street Ministry is a 1001 New Worshiping Community that has opened its doors to the needs of its community. In addition to worshiping together every Sunday, Broad Street Ministry provides a meal a day that functions as the foundation for the other services they provide. When someone attends a meal they can pick up their mail, shop for some free clothing, grab a bag of personal items, apply for an ID, work on an art project, and meet with a case manager (along with other opportunities that different organizations in the city come to provide). What I do as a seminary intern is worship leadership on Sundays, as well as provide pastoral care during the meals. This has given me the opportunity to learn about all of the good work Broad Street Ministry is doing to further the Kingdom of God.
RR:  How does this summer's job/activity/study fit into your larger education at Union?
AA:  Union faculty members pride themselves on training students to be practicing theologians, congregational leaders, and community witnesses. What this means for me is that I am attempting to apply what I learn about theology, Bible, and history to my experience in the world. To be a good neighbor in 2017 American society is to hear the cry of those struggling in our communities and lend a hand any way we can. Working at Broad Street Ministry is one way to round out my educational experience at Union by being able to take what I learn in the classroom and apply it in the world.
RR:  Why is this job/activity/study important for the future of the church?
AA:  When Jesus was asked "Who is my neighbor," he responded with a story about a person robbed and abandoned on the side of the road. Every time I walk in any city or town I am struck with how relevant Jesus's answer is two thousand years later. The gospel is good news that stretches us into areas of discomfort and commands us to love those who are outside our social networks, especially those who fall through the cracks of our society's safety nets. The Church is not the Church and the Kingdom is not the Kingdom unless we are building relationships with our neighbors on the side of the road, and Broad Street Ministry is one of the ministries that is doing just that.
RR:  What exciting insights or learnings have you gained so far?
AA:  The staff at Broad Street Ministry has been gracious enough to let me bug them with thousands of questions, so I have come away with tons of information on how they provide their services. I have also learned the importance of being an authentic neighbor. I have a tendency to approach a problem with a grand system before I even become a member of a space. However, Broad Street has reminded me that the real work of Jesus is one that responds authentically in the moment. A part of this is being okay with failure. Broad Street praises their successes in light of the failures that got them there. I often become risk averse in the face of failure, so it has been important for me to learn that the only way to be a good neighbor is to try, fail, and learn.
RR:  What are you reading or watching this summer?
AA:  The three books I had to read for this internship are a housing policy book called "How to House the Homeless" by Ingrid Ellen and Brendan O'Flaherty, an ethnographic study of people sleeping on the streets in Birmingham Alabama called "At Home on the Street" by Jason Wasserman and Jeffrey Clair, and the Broad Street Ministry mandatory reading on community development called "Community: The Structure of Belonging" by Peter Block. I also have been able to read a book about the importance of inter-faith youth education by Eboo Patel called "Acts of Faith", and "Strength to Love" by Dr. Martin Luther King, Jr.
RR:  What is your favorite summertime treat?
AA:  Mint chocolate chip ice cream!!!
In addition to interning at Broad Street Ministry, Alex got married this summer! We extend our warmest wishes and congratulations to Alex and Elizabeth!
Related Stories