Lifestyle
Expectation is the root of all heartache.
– William Shakespeare
Believe it or not, you will probably have to adjust your way of living while you're in seminary. Whether that's due to family obligations, school demands, or the financial burden of paying for seminary, your life will be altered. You will grow in knowledge, but you will also be tested (mentally, emotionally, spiritually) and there are ways you can prepare for these changes.
Money:
When you're a student, money is often a bit tighter, so below is a suggestion of 20 ways you can save some money while you're in school. Although the entire list may not apply to you, use it as a guideline to help you determine what additional expenses can be eradicated from your routine and how to get creative with your funds.
If you're looking for ways to make some extra income, check out Financing Seminary.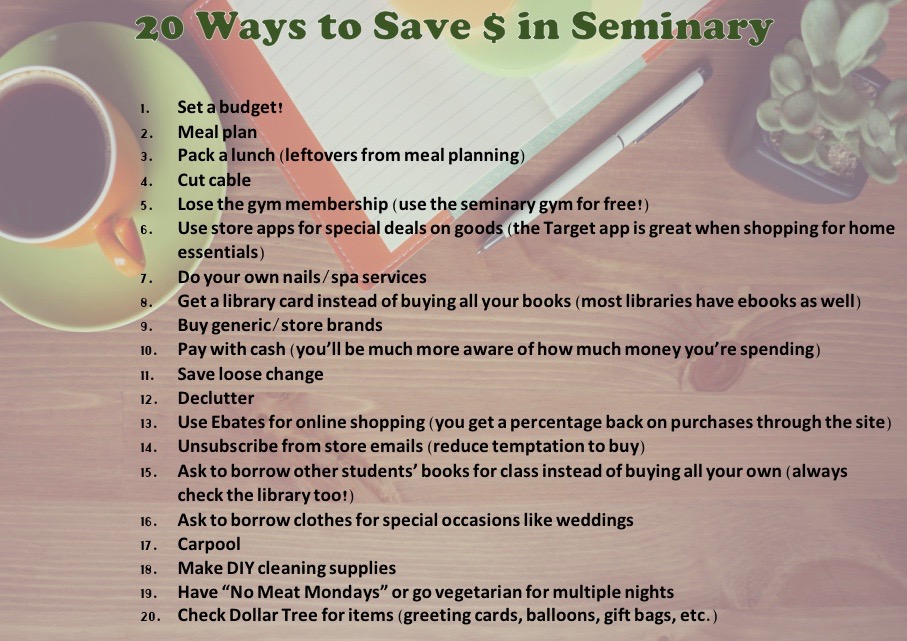 Commuting:
While you are sure to find a welcoming community during your time at seminary, your unique situation may cause you to feel disconnected at times. At UPSem, there are two types of "commuter" students – those that live off campus, but in the Richmond or Charlotte areas, and those that live more than 15 minutes away from campus.
If you live in Richmond or Charlotte, it is likely that you won't feel much of a disconnect from your classmates and school activities. Yes, you will have to plan your days a little more intentionally to reduce unnecessary trips back and forth, but you are close enough to campus that you can often choose to stay later to study in groups or meet classmates for social time.
If you live more than 15 minutes from campus, you will become more aware of transportation limitations, such as inclement weather procedures, social activity schedules, group studying schedules, and class time offerings (e.g. what times and days classes are offered each week). You may have to work a bit harder to feel fully connected to all that Union has to offer. Thankfully, when it comes to the faculty and staff, they want to help make your seminary experience enriching on all accounts and will work with you if you bring an issue to their attention.
Adjusting to your lifestyle in seminary isn't just about money – though money may be a major factor. There are many contributors that influence your experience: living arrangements, commuting, marriage, children, age entering seminary, etc. Each offers a unique seminary experience. Allow yourself some time to adjust and recalibrate to your new normal.