Take our Ugly Christmas Sweater Challenge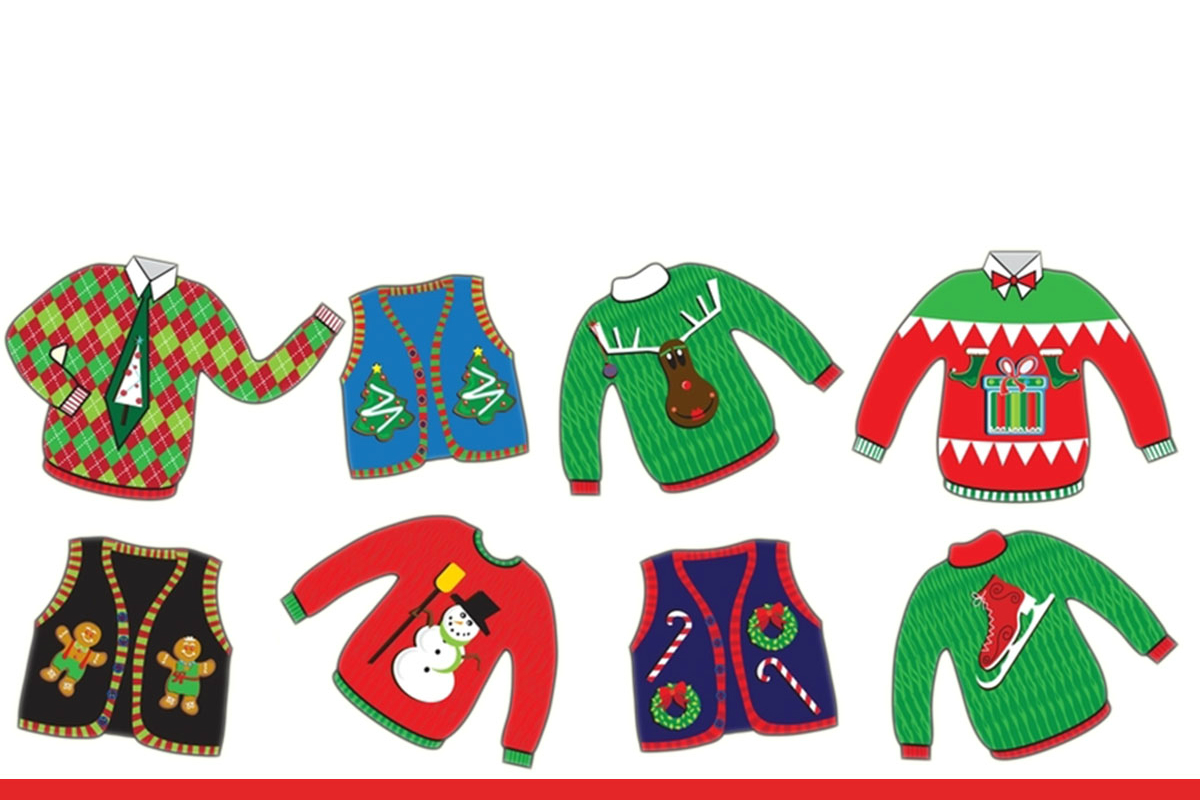 The other day when I cranked my car, I was surprised by two things.
First, I was reminded that my wife likes to listen to the radio much louder than I do, happily sharing the radio's music with all the passengers in our car and the cars immediately adjacent. Second, I was startled by Perry Como's voice coming from the car's speakers. To be specific, I was not startled by a song or Como's voice. What surprised me was the fact that Como and his song about golden rings and turtledoves was already on my car's radio. It was only November 2!
Hearing Como's song prompted two additional thoughts:  1) We are rapidly approaching a season of gift giving when true loves and friends exchange gifts with each other and offer other donations to those whom they may never meet. This time of the year, we give to many charitable organizations that support ministries and projects important to us. 2)  Gift giving can be fun, even playful. After all, something about the season has managed to enjoin lords to leap. These additional thoughts gave me an idea. Why don't we have our own fun raising money for the seminary during the coming Advent and Christmas seasons, giving to advance the work and ministry of the seminary and the next generation of bold Christian leaders?
We have come up with our own way to share the amusement of the approaching seasons with those same seasons' profound messages of generous giving and kingdom building. Starting on the first Sunday of Advent—December 3—through the conclusion of the Christmas season with Epiphany—January 6, the seminary is sponsoring an Ugly Christmas Sweater Challenge. We are challenging members of the seminary community to give a gift of $12, a gift admittedly inspired by the Como's seasonal song. Then, we ask that you take an "unselfie" in your ugly Christmas sweater (Christmas socks or ties or any appropriately tacky seasonal garb will do.). The picture is an unselfie because your photo documents your selfless act of giving to others during this season of generosity and love.
To participate, follow these simple steps:
1.      Text the word "give" to 804-294-3117.
2.      Follow the link and the prompts in the reply text immediately sent to your phone to give your donation. It should take about one minute to complete
3.      Take an "unselfie" in your ugly Christmas sweater, socks, ties, etc.
4.      Post your "unselfie" to your Facebook or Instagram pages, using the hashtag #uglysweater17 to link all our posts together. If you would rather have the seminary post your "unselfie," feel free to send your image to mfrontiero@upsem.edu.
5.      Finally, be sure to tag the seminary in your post—facebook.com/UPSem and instagram.com/upseminary—and tag/challenge other friends, alumni, and supporters of the seminary to make their own donations and post their "unselfies."
Like all gifts given to the seminary, these gifts are tax-deductible, and like all gifts given this time of the year, the seminary's board of trustees has agreed to match your gifts—dollar for dollar—through the end of the year.
Thank you, in advance, for participating in this challenge and encouraging others to do the same.
I hope your Advent and Christmas seasons are filled with expectant joy, deep reflection, and an appropriate amount of levity.
Peace,
Tim Moore
Director of Donor Development
Union Presbyterian Seminary