Students join movement to strengthen Richmond community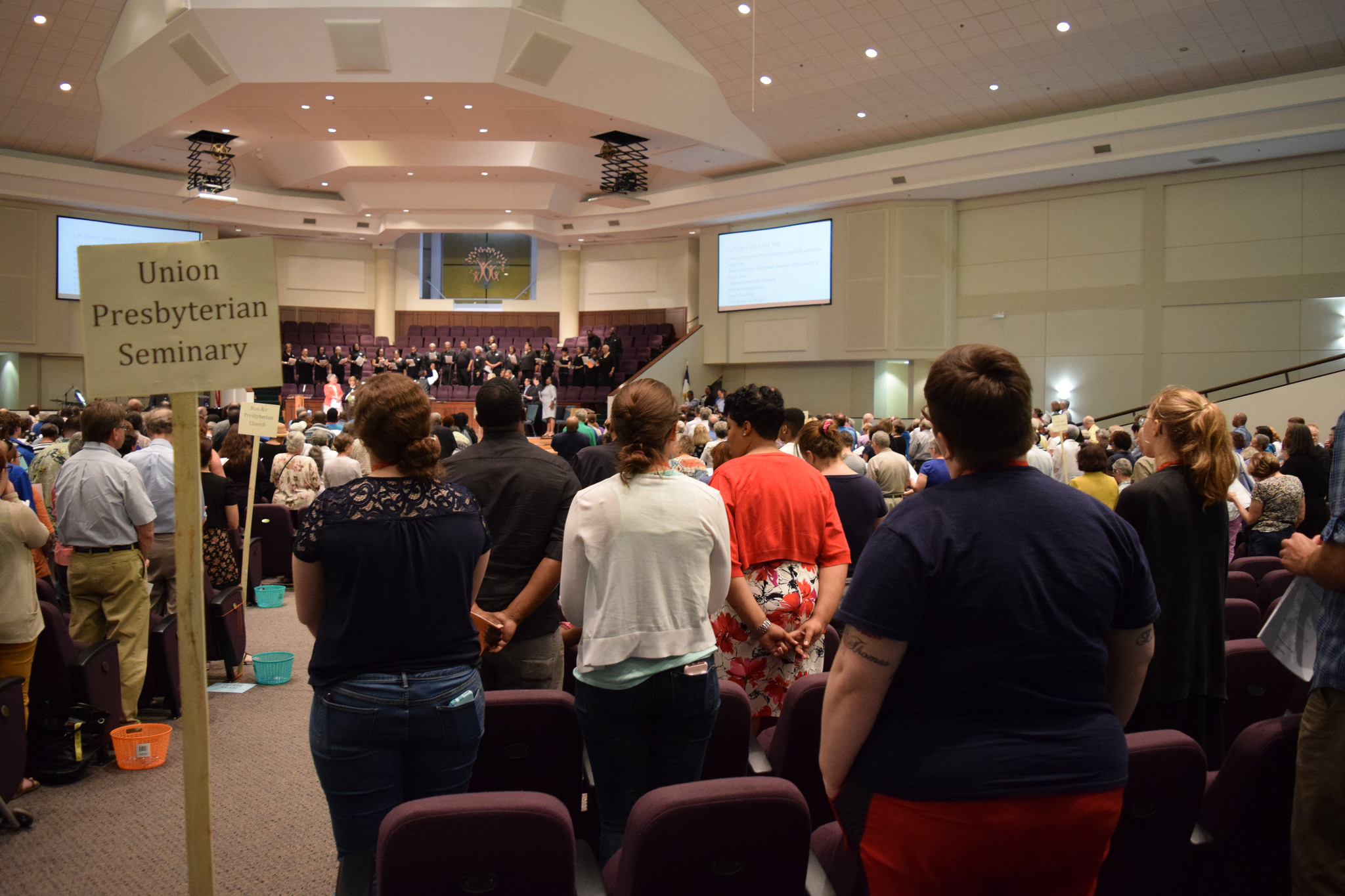 By Joe Slay
Staff Writer
Although students at Union Presbyterian Seminary may be in Richmond for just a few short years, there is an undeniable tug on those students to understand what they can of social justice issues that challenge the city and to find ways to become involved in addressing those issues.
One way that Union students have become engaged is through an organization called RISC (Richmonders Involved to Strengthen Our Communities). This nonprofit, which is supported by Richmond-area churches and others, identifies key challenges facing the community and, in the words of the seminary's RISC organizer Rebecca Heilman, seeks to "hold community leaders accountable" to address those challenges.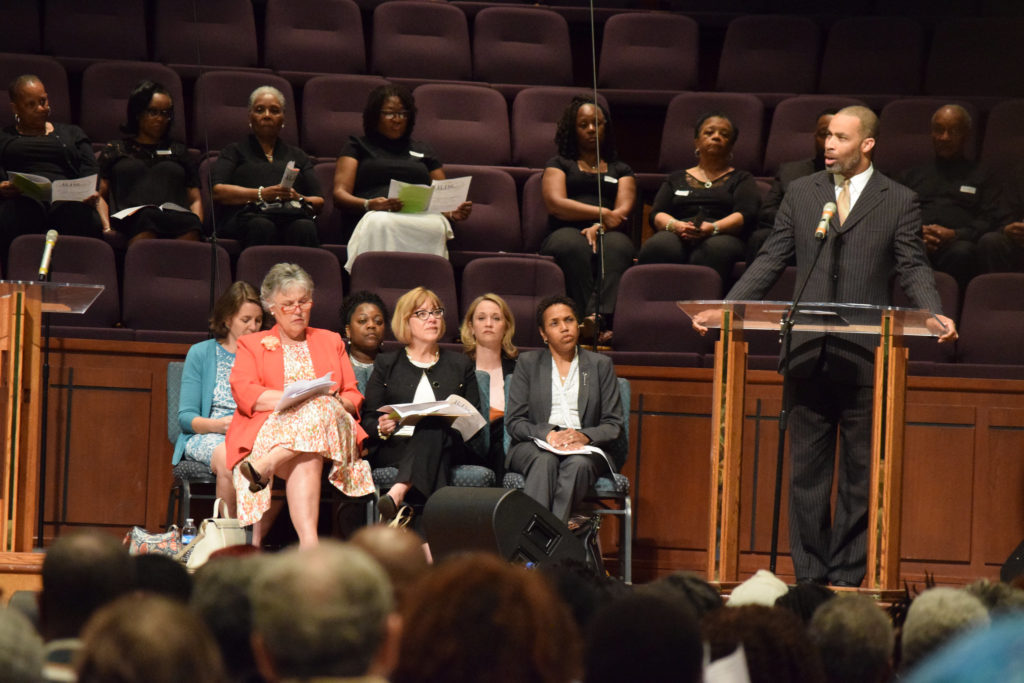 "In the past few years, RISC has targeted education, jobs, housing, and, most recently, mental health," said Heilman, a second-year student from Valdese, North Carolina. "The organization recognizes what it calls 'the power of numbers' and works to turn out individuals wanting to see real progress."
RISC's "Nehemiah Action" event on May 1 at St. Paul's Baptist Church drew an estimated 1,700 such individuals. Among them were Union students Amanda K. Hill and Jayme Babczak.
"RISC stands up for things that need to be talked about, like reading levels, unemployment, and health insurance — subjects that should not be swept under the rug," said Hill, a third-year student from Hickory, NC.
"It's all about advocacy, holding community leaders accountable, and the subjects are critical," she said. "The main topic this year, mental health, has a lot of aspects: young people who are suicidal in high school, chronic psychological illnesses, as examples. RISC gets churches aware and involved and holds conversations with school boards, agencies, those in charge of hospitals, right up to the mayor."
Babczak, a first-year student from Reading, Pennsylvania, said that she knew very little about Richmond when she first got here, but the passion for social justice was already there.
"When I came to the seminary, I was eager to listen and learn about these issues in Richmond. RISC helped me do that."
In addition to expressing appreciation to Heilman for coordinating RISC on the seminary campus, both Babczak and Hill cite the commitment to community they say characterizes Union and the influence of individual faculty members, like Dr. Samuel Adams and Dr. Christine Luckritz Marquis in encouraging their involvement in social justice issues.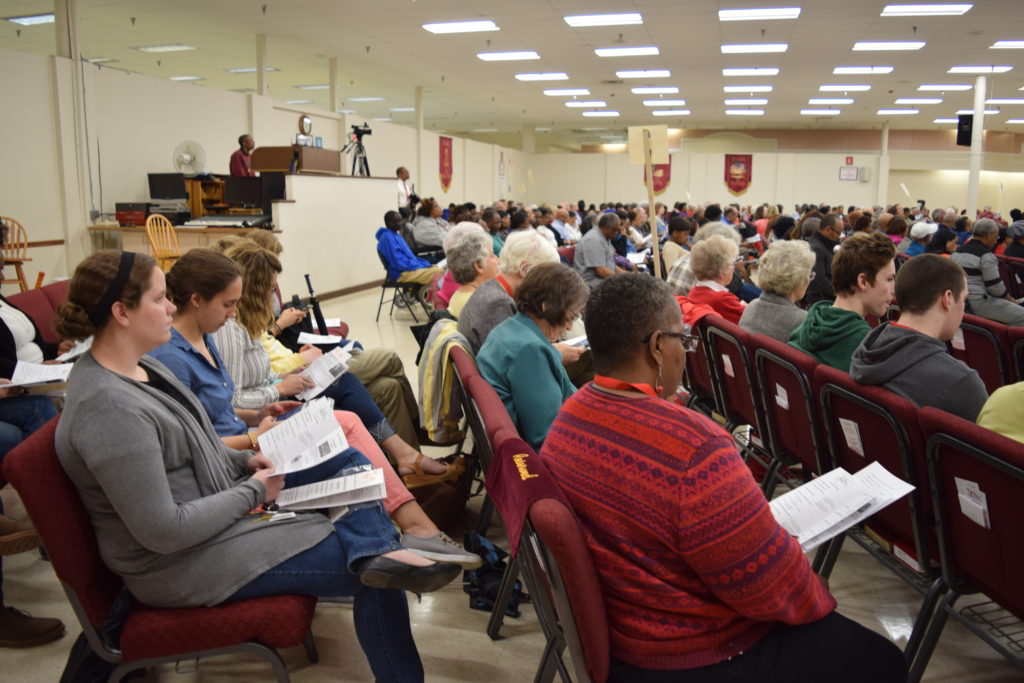 "I could see when I first came to Union that people cared about the wellness and well-being of others. That was apparent not only through organizations like RISC, but also through other students' involvement in issues like environmental stewardship, said Babczak.
"The seminary has been a dynamic, challenging, life-giving experience," said Hill. "There is a distinct understanding who each of us is in Christ, and that creates an amazing community.  In my second and third years, I saw how much the seminary influences metropolitan Richmond at large and how that sense of community really branches out beyond our campus."