Shalom Farms: An agricultural learning lab in Northside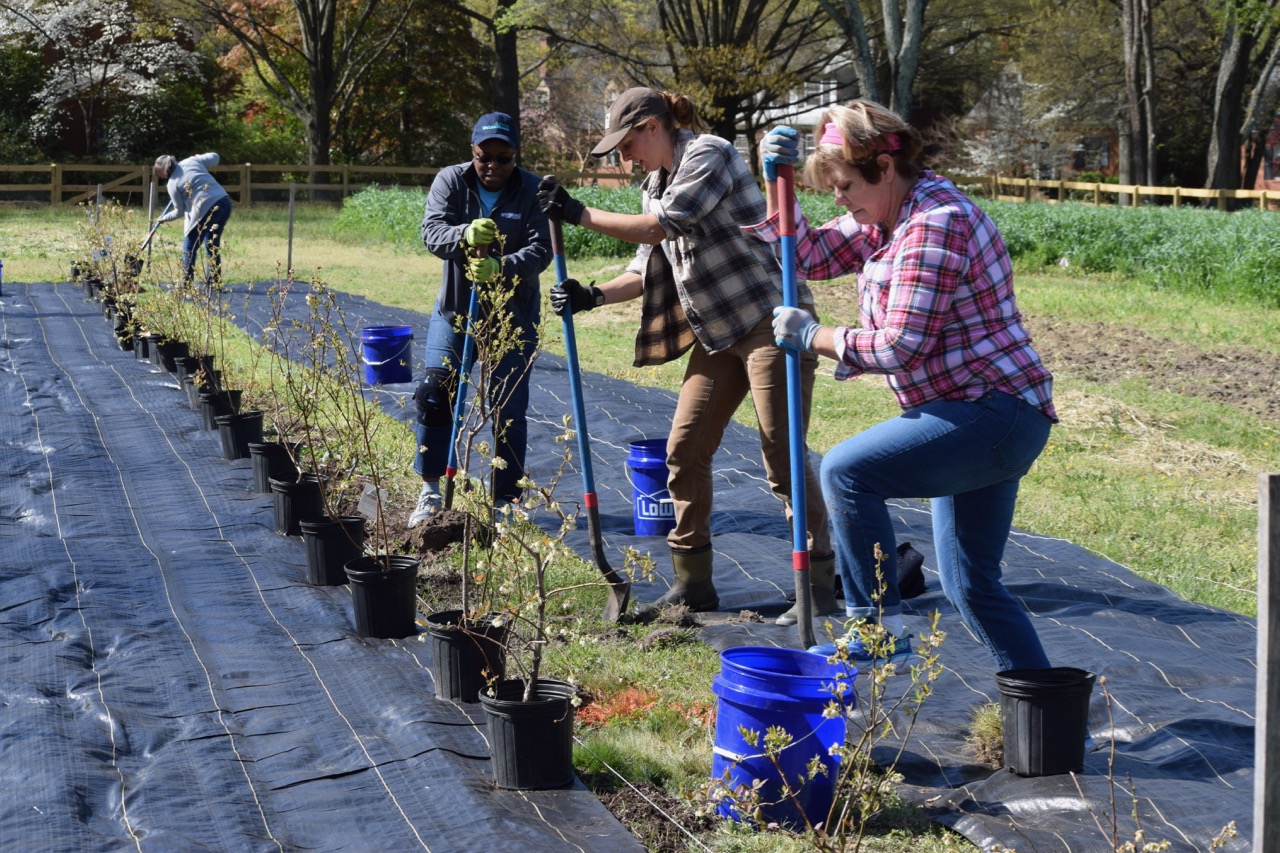 Community Spotlight
BY EMMA NORTH
If you've strolled over to Union Presbyterian Seminary's Westwood Track recently you may have noticed the honey bees buzzing and all of the vegetables growing nearby. Shalom Farms broke ground on its Northside farm last spring and this year is its first full growing year. This spring it grew cabbage, broccoli, kale, collards, carrots, and more to donate to programs serving Richmond residents with limited access to healthy produce. 
Katharine Wilson is the farm manager and only full-time worker at the Northside farm. She has been managing the farm since it broke ground in 2018. "They put up the fence and amended the field with compost the fall before I started, otherwise in terms of growing, last year was my first year and the farm's first year," Wilson said.
The farm is leasing five acres of land on the Westwood Tract from Union Presbyterian Seminary for free. It uses a tractor, greenhouse, and an army of enthusiastic volunteers and seminary student interns to maximize production to get as much great healthy food as possible to feed as many people as possible.
Wilson didn't start off in farming. After studying international development at University of Mary Washington, she began working for non-profits in East Africa. The organizations she was working with had broad focuses and were tackling many different issue areas at once.
"When I got a glimpse of when they were supporting farmers, providing them with resources, or just giving them some educational help on better growing methods there was so much positive change coming from those efforts that I was really inspired by that," Wilson said.
She took a break from her non-profit work and interned with a commercial farm in Charlottesville for a summer. "Within the first month of that job, I knew I was going to stay in farming for a long time," Wilson said. Her summer internship evolved into five years of working on farms. Wilson enjoyed farming so much because it was outdoors, active, and she got to learn and do new things every day.
She moved from Charlottesville to Richmond to begin her work with Shalom Farms. Now, instead of growing food to be sold she is growing food to be donated or sold at subsidized prices.
Shalom Farms' mission is to work with communities to ensure access to healthy food and the support to live healthy lives.
The food from the Northside Farm has been going to FeedMore, a Richmond based non-profit that works to distribute food to people in need. This summer Shalom will begin distributing Northside crops to its home-grown programs such as The Richmond Healthy Corner Store Initiative and The Prescription Produce Plan. Last year, 10,000 pounds of food were harvested from the Northside Farm. This year, Wilson plans on harvesting 15,000 pounds now that the farm is more established and the food is needed for specific programs. "It's just more important that we're hitting production goal targets and filling bags of food for people every week," Wilson said. "Which gives me more sense of purpose and drive to grow a lot of food."
To meet production goal targets, she relies on the help of volunteers and student interns. "I'm lucky to teach volunteers to do some of the work that otherwise I'd be doing on my own," Wilson said. "It's incredible to see when I add just three volunteers to myself we can get things done not even four-fold but 10-fold."
Multiple seminary students have taken their volunteer work with Shalom Farms to the next level and worked as interns either on the farm or in their office.
Shalom describes its farms as agricultural learning labs and Wilson hopes the seminary can take advantage of that. "I feel like the next level of the relationship will be with the faculty and teachers and incorporating them and their curriculum into the farm," Wilson said.
If you're interested in volunteering with Shalom Farms contact northside@shalomfarms.org. If you go soon you'll be there just in time to help harvest the spring crops. You'll have so much fun, it might just make you want to become a farmer.

---
Top photo: Shalom Farms Northside Manager Katharine Wilson, center, works with Altria volunteers planting blueberries.