From Hermon to the Sea of Galilee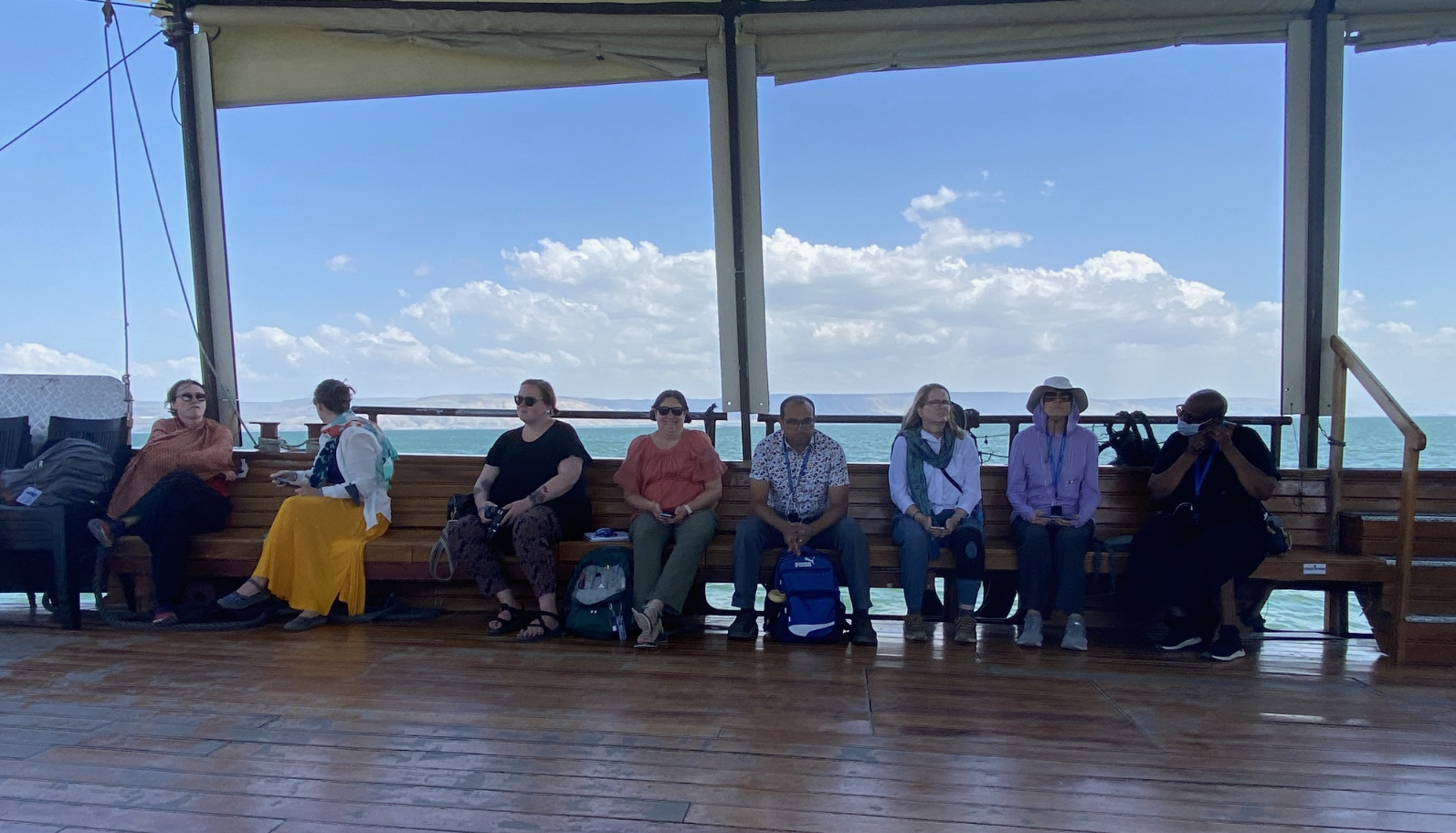 Today we were able to experience more connections with the biblical traditions. We went out to Caesarea Phillipi, which is located at the base of Mount Hermon. We read Psalms 42 and 133 while there, as they mention Mount Hermon. Experiencing that space, we came to better understand the reference to the "gates of Hades" in Matthew 16:13-21. In this passage Jesus asked, "who do you say I am?" When Simon answered, "you are the Messiah, the Son of the living God," Jesus gave him the new name Peter, which means "rock." This name change is echoed in the rocky topography of the place. Upon our return to the Sea of Galilee, we boarded a boat. As we sailed, we recalled the stories in which Jesus calms the raging sea and walks on the water and worshiped together while experiencing the gentle rolling of the waves around us.
Later that evening, as the full moon rose over the Sea of Galilee, we gathered in the hotel for a time of reflection. It was a beautiful experience in the cool of the evening to think about all the places to which we have been. We dwelt on the fact that we may have been walking where Jesus walked. We pondered what has changed and what is the same about the hills, the trees, the flowers, or the desert compared to the topography and the flora of the biblical eras. There is, indeed, a sense of timelessness about what we have experienced in these spaces.
As our conversation progressed, we centered our reflections on the people whom we have been encountering here and now. From the individual faith of a young volunteer, whose love for Jesus brought her to the holy land to share the joy and miracles of her savior, to the communal faith of the many Christians, Jews, and Muslims who seek to worship God and live in peace with one another. Despite religious differences and political conflicts, we pray and hope that these faith communities continue to work together towards peace and justice.
Not only will we be able to bring back with us a better understanding and a different perspective of the stories of the Bible, but also a stronger connection to the people here. When we return home, we will find ways to share these experiences and insights with our communities.
–Nikelle Johnson,
2nd year, MDiv/MAPT