Everything, Everywhere, All at Once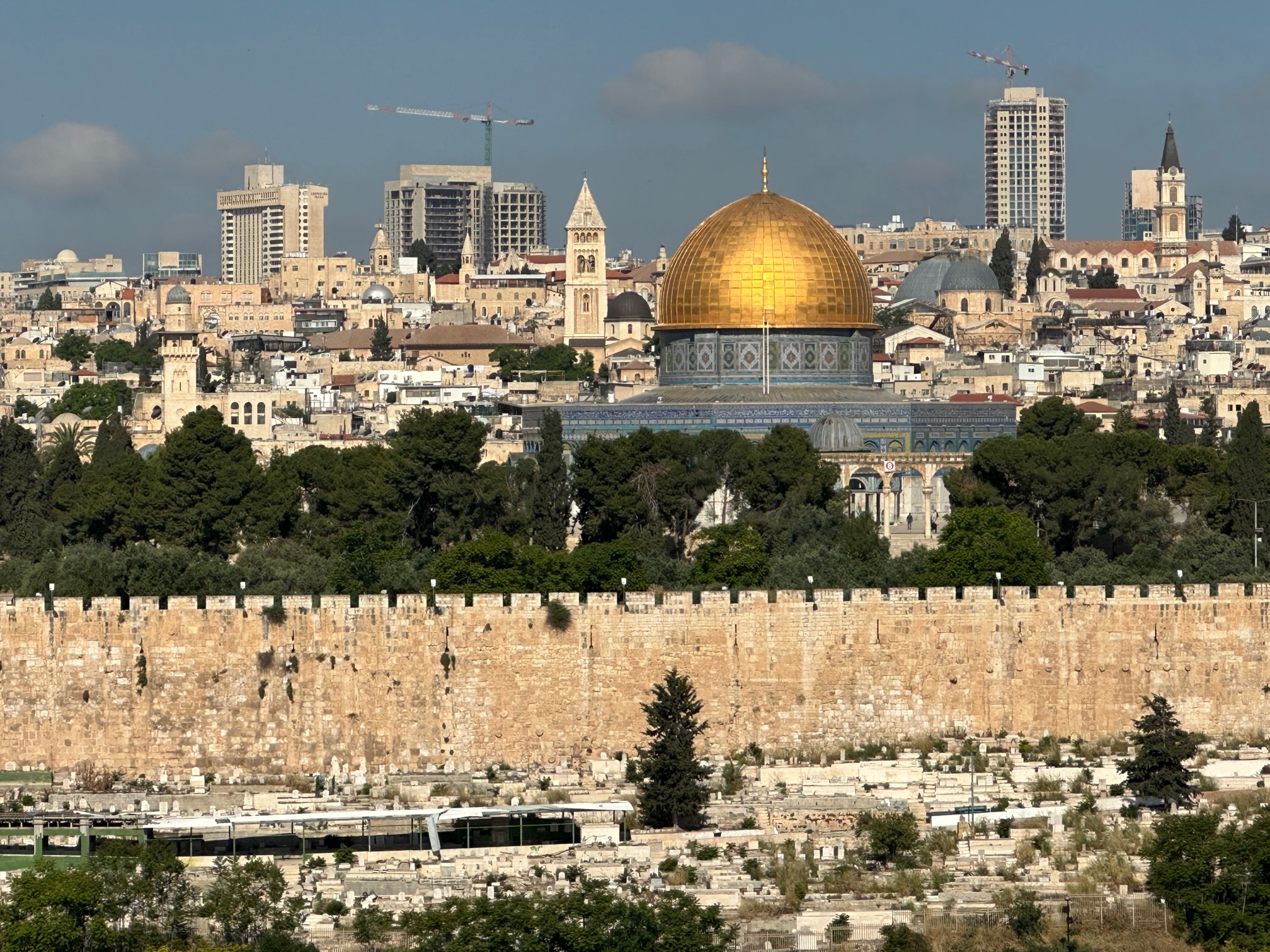 The blistering pace and barrage of experience on our pilgrimage over the preceding 16 days came to a crescendo as we awoke for our first morning in Jerusalem. We began on the Mount of Olives, in the midst of the Jewish cemeteries that cover its western slope facing the Holy City. Surrounded by 3000 years-worth of graves we gazed across the valley as the rising sun shone from behind us onto the glistening gold of the Dome of the Rock on the Temple Mount. Upon descending into the valley below we entered the grove of olive trees dated to 900 years old that is considered the intentional propagation of an older lineage and now designate the garden of Gethsemane. The adjacent Church of All Nations consists of interior and exterior spaces adorned with the splendor of sacred mosaic work from around the world, bringing together an intersection of global art gallery with sacred worship space centered upon this holy location.
From here we ascended the opposite slope to the walls of Jerusalem. Those who have been to Jerusalem are often asked, "Through which gate did you first enter into Jerusalem's Old City?" Most of us will now answer and will never forget the image of entering through Lion's Gate (aka the Gate of St. Stephen). A surprising first stop just inside the gate was St. Anne's church where the immaculate gardens were nearly as astounding as our voices when we sang in the sanctuary with the assistance of its renowned acoustics.
Then steps away we began the pilgrimage within our pilgrimage as we prayed and walked the Way of the Cross along the 14 stations of the Via Delarosa, culminating at the Church of the Holy Sepulchre. No experience on this journey has been fully anticipated. The expectations around sacred experiences are lifelong accumulations but the experiences are manifest fully only in their singular occurrences that cannot be appreciated to any great measure outside of them. So, suffice to say here that I could write pages and pages here in some vain attempt to elaborate on the ineffable.
And then we had lunch.
(Ask me later about Hezekiah's Tunnel)
–Lucius Chapin
3rd year, MDiv/MACE