BLACK ALUMNI ASSOCIATION NEWSLETTER: November 2023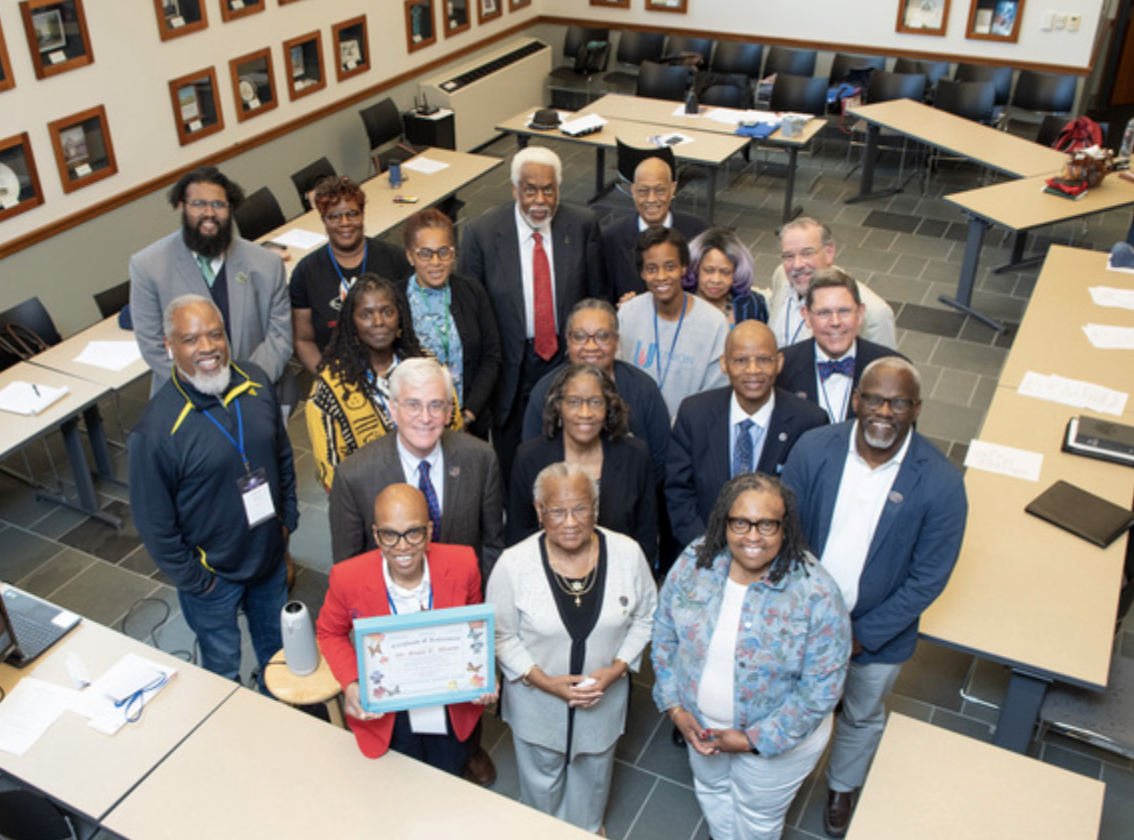 God's Prescription for Answered Prayer
(For Unity to be One)
By Rev. Veronica Martin Thomas
MSW, Virginia Commonwealth University '73; M.Div., Union-PSCE '07
"If my people who are called by my name humble themselves, pray, seek my face, and turn from their wicked ways, then I will hear from heaven and will forgive their sin and heal their land."
(2 Chron. 7:14 NRSR).
When you watch football games today, you will from time to time see the coach reach in his back pocket and throw a flag out on the field. He's contesting something that the referee has called on the field and the flag shows that he doesn't agree. The coach is demonstrating that the referee didn't see the play right or call the play correctly. When he throws that flag out on the field, the game is going to be stopped.
The referee is then going to go and look more intently at the play to determine whether the right call was made. On many occasions, he will reverse the decision, because of the coach's flag.
When Christians pray right, God in heaven, stops to take a second look. On many occasions, things will reverse because a Christian throws up a flag. God welcomes the flag of prayer. It is His communication mechanism.
Let us dissect the verbs this text.
Humble ourselves by admitting our sins
Pray to God, asking for forgiveness
Seek God's face continually
Turn from sinful behavior – ungodly, unrighteous
True repentance is more than talk – it is changed behavior. Whether we sin individually, as a group or as a nation, following these steps will lead to forgiveness. God will answer our earnest prayers. The way we live does have an impact on whether or not our prayers are answered.
Prayer Conditions
This prescription for answered prayer is reflected again and again in the scripture. Prayer requires the right relationship with God. First, the supplicant must be called My name. God will respond to our cries and has responded by sending Jesus, who does what Solomon could never do (obey God perfectly). Within this idea, there still remains the truth that if God's people (who are called "the church" or "the body of Christ" and are those who have accepted the Savior. Titus declares that Jesus: "…gave himself for us, that he might redeem us from all iniquity and purify unto himself a peculiar people, zealous of good works" (2:14). This is an example of being called "peculiar" by an individual.
The only other prayer condition is "humble themselves." The words "pray and seek my face and turn from their wicked ways" describes what humbling ones selves means. It means abandoning hope in ourselves to rely completely on God. And it means forsaking our own sinful ways to respond wholeheartedly to God's known will.
In actuality, these are not so much conditions that God requires as they are a description of the person who will in fact pray! Only those with a sense of personal relationship ("called by his name") who take relationship with God seriously ("humble themselves") will turn to the Lord for supernatural help.
We can have a name without the correlating essence and use the name, but then that use is illegitimate. The reason why more of us are not experiencing answered prayer is because of the misuse of God's name as our Father.
Let us pray:
Good morning Holy Spirit. Give me a clean heart and renew a right spirit within me, this day and every day I walk in your holy and righteous name. I come this day boldly before you abandoning hope in myself and relying completely on you, God. This day and every day I will admit my sins, ask forgiveness, seek your face continuously, and abandon my own sinful ways that my prayers may be answered.
In the Name Lord Jesus, I pray. Amen.
---
Why Do Some Christians Look Down on Others?
BY REV. DR. LEONARD EDLOE
Pharm.D. UFL '03; M.Div. STVU '99; Th.M UPSem '2018
We Christians have a way of looking down on some people while at the same time holding others in high esteem.
On a recent Sunday, I preached from Matthew 15:10-28. It's a text that is often avoided by most pastors. And if the text is preached, many times pastors make excuses for what Jesus says in verse 26.
The text has two movements. One is where the Apostles feel that Jesus has offended the Pharisees. And a second movement is where Jesus, a Jew, refers to this Gentile woman and her daughter as "dogs", a term Jews in the first century used for Gentiles.
The congregation I serve is normally very responsive to the reading of Scripture, however, the congregation became silent when the following words were read. "It is not good to take the children's bread and toss it to the dogs" (Matthew 15:26b). The text provided an opportunity to examine how as Christians we often perceive individuals or groups of individuals as "other", unlike "me" or "us".
Many times, we perceive individuals as "other" because of religion. The Apostles held the Pharisees in high esteem because of their religious position and power.  Even though often they did not always live the religious laws that they used to bound up and condemn others for not following. What is ironic is that the Pharisees probably looked down on the Apostles. However, there are Christians who hold in high esteem the very same people who look down at them just like the Apostles.
With this Gentile woman, the Apostles not only looked down on the woman, they told Jesus to send the woman away, treating her as "other" because of both religion and culture. There was a religious mandate for Jews and Gentiles not to intermingle, and culturally, Gentiles were seen as inferior to Jews.
As Christians today, we see those that we perceive as "other" based on our theological beliefs that are very different from the beliefs of the "The One" we say we follow.
We negate and look down on women, especially women in ministry, based on the writings of Paul when Paul actually commended a woman deacon in Romans 16:1-2. Women were also an integral part of the ministry of Jesus. The women who followed Jesus showed up at the tomb when the men were afraid to show up.
Many Christians today deny the existence of racism and how they unconsciously look down on people of color. Racism was introduced into Christian theology when Europeans in the 15th century came up with the "Curse of Ham", a curse that said Black people were to serve Europeans. This theology got to the point that black people were seen as less than humans with no souls. It was a theology that was perverted since the curse was on Canaan and the curse gave Israel the theological covering to capture the land.
This theology was taught at church. It was taught in homes. It was taught in our institutions of higher learning, and it was enforced by culture. This theology has resulted in many Christians looking down on people who look like me, and sadly I have experienced it in my life as a pastor, a pharmacist, and as an educator.
The "othering" is so embedded in the theology of some Christians that they have joined with politicians to ban certain books and the teaching of the true history of our nation, where Christianity played a major role in both slavery and segregation.
The "othering" today, sadly, goes much further. Space limitations do not allow me to share more. However, when you see someone who is different, the difference is often because you have structured your theology in such a way that God is made precisely in your image. Remember that all of us come from the same woman, a woman that was made in the image of Almighty God. And no matter what the differences might be, they may have shortcomings or society has marginalized or negated them. As Christians we should never "other" another image of Almighty God.
---
Gift of Thoughts to You for Thanksgiving
BY REV. DR. HELEN BESSENT BYRD
M.Div., Union-PSCE '07; Ph.D., UConn
In the spirit of thanks, giving, and Thanksgiving, please feast on these ideas that have come into my hands recently.These two writings have been sources of much reflection for me. May they strengthen and bless you as you seek to live the Fruit of the Spirit (Gal. 5:22-23) and as you think on your material and verbal gifts given and received this year.
Forwarded from Sigma Gamma Rho Sorority Sisters
Hate has 4 letters, so does Love.
Enemies has 7 letters, so does Friends.
Lying has 5 letters, so does Truth.
Negative has 8 letters, so does Positive.
Under has 5 letters, so does Above.
Cry has 3 letters, so does Joy.
Anger has 5 letters, so does Happy.
Right has 5 letters, so does Wrong.
Hurt has 4 letters, so does Heal.
Life is like a double-edged sword. Transform every negative side into an aura of positivity. We have the freedom to choose the better side of Life.
Tiffany Raines > DeAlana S. Chase
Let Us Be a Blessing
Thomas F. Lester, Sr.
Let us be a blessing.
Let us help someone today.
Let us show the world
that we can live our lives God's way.
Let us be a blessing,
the world is filled with folks in need.
God wants to help them grow,
so we must plant the seed.
Let us be a blessing,
God said we should help the poor.
When we try to help others,
He will bless us even more.
Let us be a blessing,
Our Father wants us all to give.
Let us be a blessing
for as long as we shall live.
Let us be a blessing,
in everything we do and say
Let us be a blessing
and let us all begin today.
–From Whatever God Gives You Is Enough, 2007
Remember the advantage of giving to support UPSem before this year's end. See the website for all giving opportunities. For tracking BAA appeals when you give, please write BAA on the line with your name if you give online and on the memo line if you send a check!
---