Dr. Roger Gench to Present 2020 Dawe Lecture
March 16 @ 7:30 pm

-

9:00 pm
Event Navigation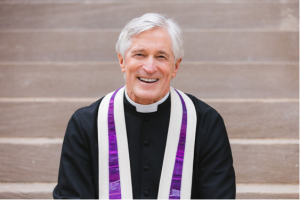 Lecture Title: Cruciform Mindfulness
Presenter: Dr. Roger Gench, Retired Pastor of The New York Avenue Presbyterian Church and current Theologian in Residence at Second Presbyterian Church
Date: Monday, March 16, 7:30 p.m., with reception to follow
About the Lecture: 
Dr. Roger Gench will explore the connection between the Buddhist notion of mindfulness and Christian theology and spirituality of the cross.  It will articulate a foundation for the Christian life in which activism and spirituality are integrally related, part of the same footprint, rather than disconnected or addenda to each other.
About the Presenter:
Roger Gench retired in 2019 from seventeen years of service as the senior pastor of The New York Avenue Presbyterian Church in Washington DC. He has also served as the pastor of Brown Memorial Park Avenue Presbyterian Church in Baltimore, Maryland.  He has spent the last thirty years connecting the contemplative arts and theological reflection to the practice of community organizing.  He currently serves as Theologian in Residence at Second Presbyterian Church in Richmond, Virginia. He is an alum of Union Presbyterian Seminary, where he completed a Ph.D. in Theological Ethics.
The Dawe Lecture is free and open to the public.
Click here to learn more about the Donald Dawe Lecture series.
Related Events