History
History of Union Presbyterian Seminary
Since its founding in 1812, Union Presbyterian Seminary has served the Presbyterian Church by educating pastors and teachers, missionaries, and scholars for service to Christ and the world. The "Union" in the seminary's name represents the partnership of the synods of Virginia and North Carolina in behalf of theological education.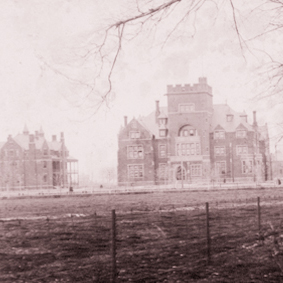 Since 1898, the seminary has been located in Richmond, Virginia. In 1997, Union Theological Seminary federated with the Presbyterian School of Christian Education to become Union-PSCE. The Presbyterian School of Christian Education had been established in 1914 as the Assembly's Training School for Lay Workers. Its name was changed to the Presbyterian School of Christian Education in 1959.
At the invitation of four presbyteries in North Carolina and one in South Carolina, Union Presbyterian Seminary began holding classes at the new seminary extension on the campus of Queens University. In the fall of 2012, classes opened in a state-of-the-art facility on the campus of Sharon Presbyterian Church.
In July 2010, Union-PSCE changed its name to Union Presbyterian Seminary to reflect a collective vision for the future and to signify the new creation that God is forming out of this historic seminary.
Union Presbyterian Seminary provides a variety of degree programs for those seeking to serve the church of Jesus Christ. Both the Richmond and Charlotte campuses offer the Master of Divinity (M.Div.) and the Master of Arts in Christian Education (M.A.C.E.) as well as the M.Div./M.A.C.E. Dual Degree program. The Richmond campus also offers the Master of Theology (Th.M.) and the Doctor of Philosophy (Ph.D.) degrees. The M.A.C.E. is also available through the Extended Campus Program that combines distance learning in one's home setting with intensive on-campus sessions in Richmond.
The faculty at Union Presbyterian Seminary have given the institution a reputation for excellence. These scholars, teachers, and preachers express a profound and vital Christian faith, and have written hundreds of books, articles, and curricula that have an important effect on the life of the contemporary Christian church. Brian K. Blount, president of Union Presbyterian Seminary, is a leading scholar of the New Testament. The seminary has approximately 221 students enrolled in programs to prepare for ministry as pastors, educators, and scholars in service to the church. They represent approximately 11 nations and 38 states.
---
Celebrating 200 years
Union Presbyterian Seminary, one of 10 theological schools of the PCUSA, was founded in 1812 as a theological adjunct of Hampden-Sydney College in central Virginia. Visit the ATS-PSCE Centennial site.