Union Seminary announces faculty promotions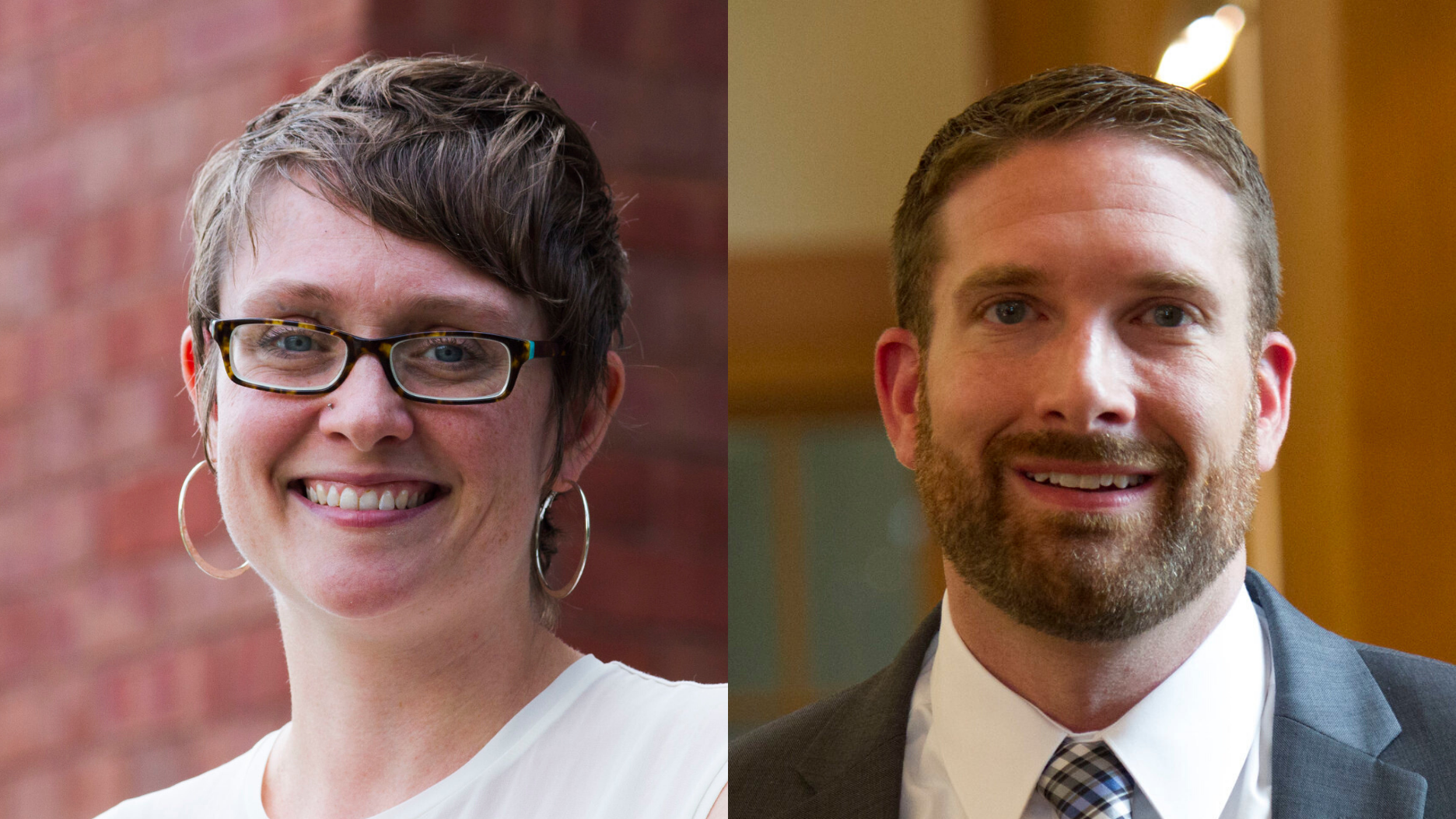 RICHMOND, VA (January 23, 2020) — With excitement and gratitude for their high level of service to the teaching ministry of Union Presbyterian Seminary, the school has promoted two assistant professors to associate professor with tenure: Christine Luckritz Marquis and Richard W. Voelz.
"Drs Luckritz Marquis and Voelz have been tremendous additions to the Union Presbyterian Seminary faculty since they began their teaching ministries with us," President Brian K. Blount said. "They are gifted and productive scholars whose research energizes and deepens their teaching. In the academy, church, and world, both will have dramatic and life-giving impact for decades to come. Union Presbyterian Seminary is blessed by their presence and service."
Dr. Luckritz Marquis has taught church history at Union since 2013. Previously, she taught at Duke University, Lehigh University, and Moravian Theological Seminary. A Master of Arts in religion graduate of Yale Divinity School, she received her Bachelor of Arts in religion from Illinois Wesleyan University. She earned her doctorate in early Christian studies from Duke in 2012. She is the recipient of several awards, including the Dolores Zohrab Liebmann Fellowship from 2010-2012.
Her teaching and research explore early Christian communities and their practices, especially those founded in Egypt, Syria, and the Arabian Peninsula. Interests include memory and spatial practices among early Christians, the role of violence in early Christian identity formation, early Christian material culture, understandings of the body, and Christian interactions with neighboring Christians in both the Roman and Persian Empires, as well as non-Christians, especially early Muslims. She has served as both field archaeologist and registrar for the Yale Monastic Archaeological Project – North. Her first book, which is forthcoming with the University of Pennsylvania Press, is titled "Death of the Desert: Monastic Memory and the Loss of Egypt's Golden Age." The book explores how memory and spatial practices were transformed by acts of violence among Egyptian ascetics. She has also co-edited and translated "The History of the Great Deeds of Bishop Paul of Quentos and Priest John of Edessa: Texts from Christian Late Antiquity volume 29" (Piscataway, New Jersey: Gorgias Press, 2010). She contributed to "Melania: Early Christianity Through the Life of One Family" (University of California Press, 2016). Her translation work is found in the first two volumes of "More New Testament Apocrypha" and on the Coptic Scriptorium webpage.
Dr. Luckritz Marquis appreciates the opportunity to share her expertise in public forums. When she is not writing or teaching, she enjoys farmers markets, cooking, and assisting local food programs that seek to provide access to and education about sustainability.
Dr. Voelz has taught preaching and worship at Union since 2016. An ordained minister in the Christian Church (Disciples of Christ), he formerly served as senior minister of the Johns Creek Christian Church (Disciples of Christ), an open and affirming congregation in metro Atlanta, Georgia. He has over a decade of ministry experience in various contexts.
A graduate of Vanderbilt University's Graduate Department of Religion with a doctorate in homiletics and liturgics, Dr. Voelz brings expertise and scholarly interest in contemporary homiletic theory, preaching and critical pedagogy, preaching and youth, pastoral identity, preaching in the Stone-Campbell Movement, and contemporary liturgical theology.
He has authored three books, including "Preaching to Teach: Inspire People to Think and Act" (Abingdon Press, 2019), "Tending the Tree of Life: Preaching and Worship Through Reproductive Loss and Adoption" (Energion Publications, 2018), and "Youthful Preaching: Strengthening the Relationship Between Youth, Adults, and Preaching" (Cascade Books, 2016). In addition, he has contributed to "Preaching as Resistance: Voices of Hope, Justice, and Solidarity," (Chalice Press, 2018), "The Living Pulpit: Sermons that Illustrate Preaching in the Stone-Campbell Movement 1968-2018" (Chalice Press, 2018),  and "Young Preachers Compilation" (Shook Foil Books, 2012). He also serves as Associate Editor for the "Between Text and Sermon" section of Interpretation: A Journal of Bible and Theology.
The Calvin Institute of Christian Worship awarded him a grant in 2019 to develop a workbook that will strengthen preaching preparation for adolescent youth and their mentors.
Dr. Voelz continues to teach, preach, and lead worship for congregations. As a North Carolina native, he is a huge college basketball fan. Growing up, he went to church on the edge of the campus of North Carolina State University, so he is a longtime and eternally optimistic fan of the Wolfpack. As an alum, he is also loyal to the Vanderbilt Commodores.
###
Christine Luckritz Marquis photo
Richard W. Voelz photo
Media Contact:
Mike Frontiero
Director of Communications
Union Presbyterian Seminary
mfrontiero@upsem.edu