Barbara Sue Ward passed away on Sept 9, 2022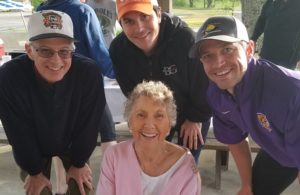 Barbara Sue Ward, 92, former PSCE employee and a member of the President Advisory Council passed away peacefully on Sept 9, 2022.
Sue and her husband Joe, were long time supporters of the Joe Ward Scholarship for first year's seminary students entering Union.  Last May we celebrated the 20th Golf  Tournament to raise fund for the scholarship.  Photo: Sue at the center of seminary student golfers.