Union Presbyterian Seminary to Inaugurate Rev. Dr. Rebecca L. Davis as Sarah Belk Gambrell Professor of Christian Education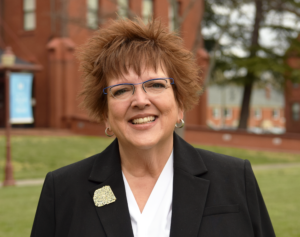 Charlotte, NC (November 16, 2023)—On December 2 at 11:45 a.m., Union Presbyterian Seminary will formally inaugurate Rev. Dr. Rebecca L. Davis as the Sarah Belk Gambrell Professor of Christian Education at Sharon Presbyterian Church.
A Minister of the Word and Sacrament and a Certified Christian Educator in the Presbyterian Church (USA), Davis previously served as Associate Professor of Christian Education. She is the Director of the Union Presbyterian Seminary Center for Excellence in Christian Education and the Master of Arts in Christian Education program.
Rev. Dr. Davis brings over 25 years of congregational experience to her academic teaching. She has been both ordained and non-ordained ministry staff in small, medium, and large congregations across the south. Prior to her work at the Seminary, she was Director of Christian Education at Enslow Park Presbyterian in Huntington, WV, Associate Pastor at Central Presbyterian in Mobile, AL, Pastor of First Presbyterian in Monahans, TX and Executive Director of its child development center, Associate General Presbyter in Peace River Presbytery in Florida and Associate Pastor at Myers Park Presbyterian Church in Charlotte.
One of her deepest passions is child advocacy, which called her to serve as Coordinator of the Religious Action Division for the Children's Defense Fund in Washington, DC and contract staff for the National Council of Churches' Committee on Justice for Children and their families. Throughout her career, Dr. Davis has engaged at all levels of the church including serving as the organizing chair of the Presbyterian Child Advocacy Network and on the Year of the Child Planning Team for the General Assembly. She has served on the editorial board for Presbyterian Women's Horizons Magazine, the Advisory Board for the PCUSA's Educate a Child Initiative, and the National Committee on the Self-Development of People. She currently serves on the Educator Certification Council for the PCUSA and was named the 2018 Educator of the Year by the Association of Presbyterian Church Educators.
Dr. Davis focuses on new approaches for compelling and transforming teaching, forming faith for public engagement and emancipatory pedagogy. She earned her Ph.D. at Union Theological Seminary's Presbyterian School of Christian Education, now Union Presbyterian Seminary, with campuses in both Charlotte, NC and Richmond, VA.
The public is invited to attend the inauguration. Dr. Davis will present "Embracing the Imaginable Possibilities: Educational Leadership for Bold Faithfulness in the Church and World." Lunch will follow the event.
# # #