Alex Evans is tested police chaplain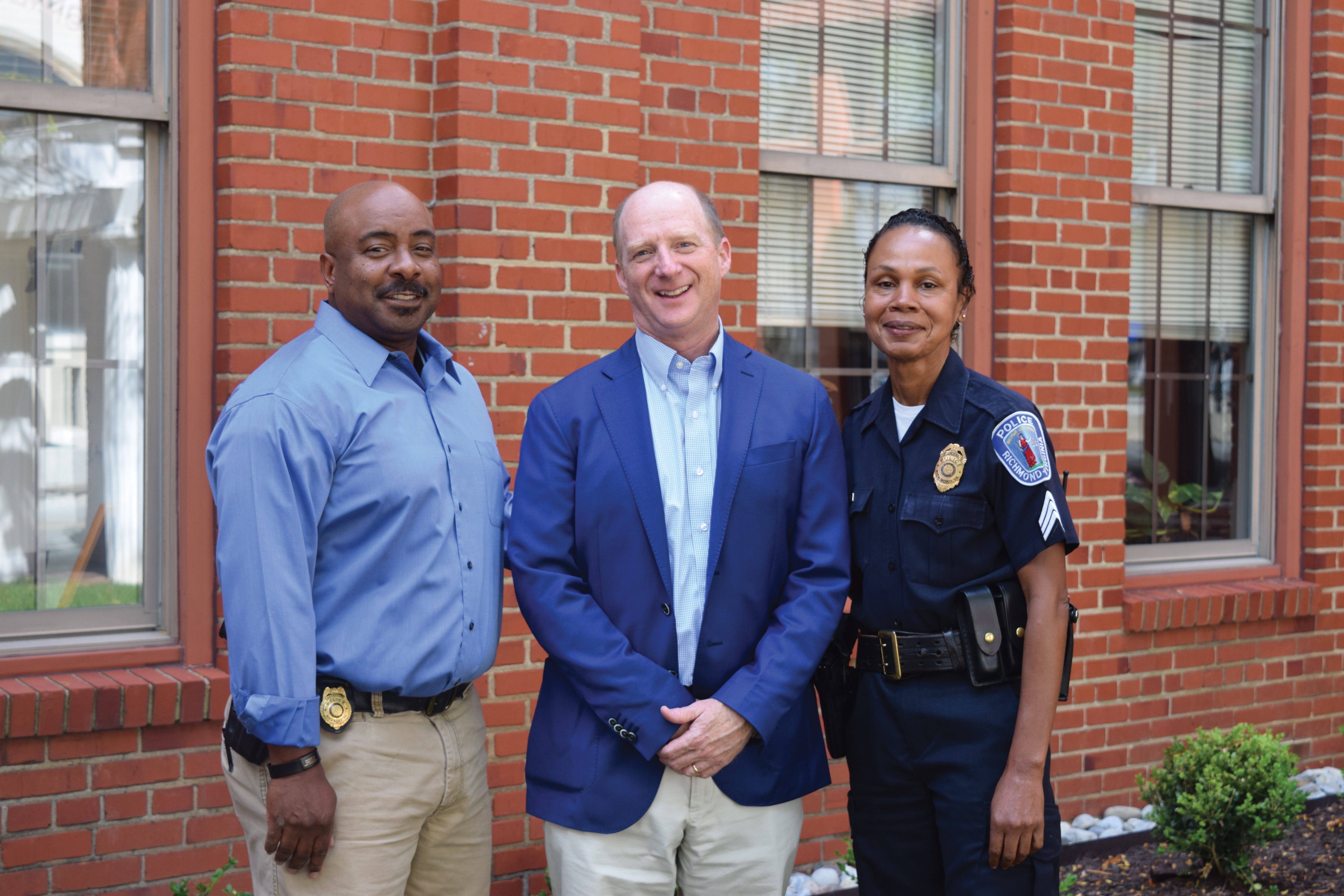 Alex Evans (M.Div.'87), pastor at Second Presbyterian Church in Richmond, Virginia, and chairman of the board of trustees of Union Presbyterian Seminary, is flanked by Detective John Walker and Sargeant Carol Adams of the Richmond Police Department. 
BY JOE SLAY
It was Sunday morning, less than a week after the April 16, 2007 massacre of 32 students and teachers at Virginia Tech in Blacksburg. A CNN reporter turned to Alex Evans (M.Div.'87), then chaplain to the Blacksburg Police Department, and asked him: "Well, preacher, what are you going to tell your congregation this morning?"
Evans, who was then serving as pastor at Blacksburg Presbyterian Church, was not a stranger to sudden violence. That past fall, at 4 a.m. on another Sunday morning, police had pulled him into a bloody incident where an escaped prisoner had shot his way out of a hospital emergency room, killing a security guard, and later, a sheriff's deputy.
Now, in the wake of the Tech shootings, Evans faced gut-wrenching conversations with those who had been in or near the Norris Hall shootings, visits with grief-stricken families, and two shooting-related funerals in his own church. And, there was the toll on the police…the often invisible effects of violence on those whose jobs really don't allow them to "feel" what they're going through.
This first-hand awareness of what police experience with lack of support and counseling encouraged Evans to create, with fellow Blacksburg police chaplain Tommy McDearis and some police officers, the Virginia Law Enforcement Assistance Program (VALEAP).
"We ask our cops to do a lot of things," said Evans. "They find themselves in unspeakable situations. We have become a culture of fear and violence, and police need resources to deal with the emotional effects of that reality. They need to stay healthy and whole, and we need to respond to that need."
Eric Skidmore (M.Div.'90), a fellow Union  graduate, had himself started the South Carolina Law Enforcement Assistance Program. He came to Blacksburg and encouraged Evans to start a similar program in Virginia.
By 2009, VALEAP was a reality. The first year's participants in a three-day Post Critical Incident Seminar included 25 police officers who were still dealing with the personal aftershocks of the Tech shootings.
At least 400 police officers have attended the free-of-charge conferences held since 2009 by all-volunteer VALEAP. VALEAP's largest funding source in recent years is the Peacemaking Fund of the Synod of the Mid-Atlantic.
Said Evans, "A 'critical incident' can be the shooting of a cop's partner, a violent car wreck, child abuse, any number of things. One attendee said, 'I shot someone. My department sent me here for that, but that's not what bothers me. There was a car wreck years ago, and I saw this kid…and I can't get him out of my mind.'"
"At the conference, there are lectures on trauma, family issues, alcoholism, and addiction," said Evans. "Cops sit around a table, and each one takes 15 or 20 minutes and describes the critical incident he or she experienced. It's cops talking to cops; cops helping cops."
"There is a growing need for this," Evans said. "We started with one conference a year, and it filled up immediately. If we had more funding, we'd go to three or four. It's a safe space. And it's a sacred space."
There's a session titled "The Search for Meaning," where participants can talk about the effect their experience may have had on their lives, their psyche, and their desire to go to work.
"It's a chance for cops to come together and find support from one another and from those who understand the rigors and trauma of police work. It's a chance to say, 'Bad things happen. God understands. And we keep living by faith, and that's hard to find sometimes.' Trauma affects your sleep, your daily life and relationships, your sense of God, and your faith, no matter what your faith is."
On that Sunday morning in 2007, after the Tech shootings, Evans was able to tell the CNN reporter what he would say to his church.
"I told him it would be Psalm 46…'God is our refuge and strength, an ever-present help in trouble.'"
"All through the ages, people have suffered, and God is our help. That is what we say."