2020 Virtual SPRUNT Lectures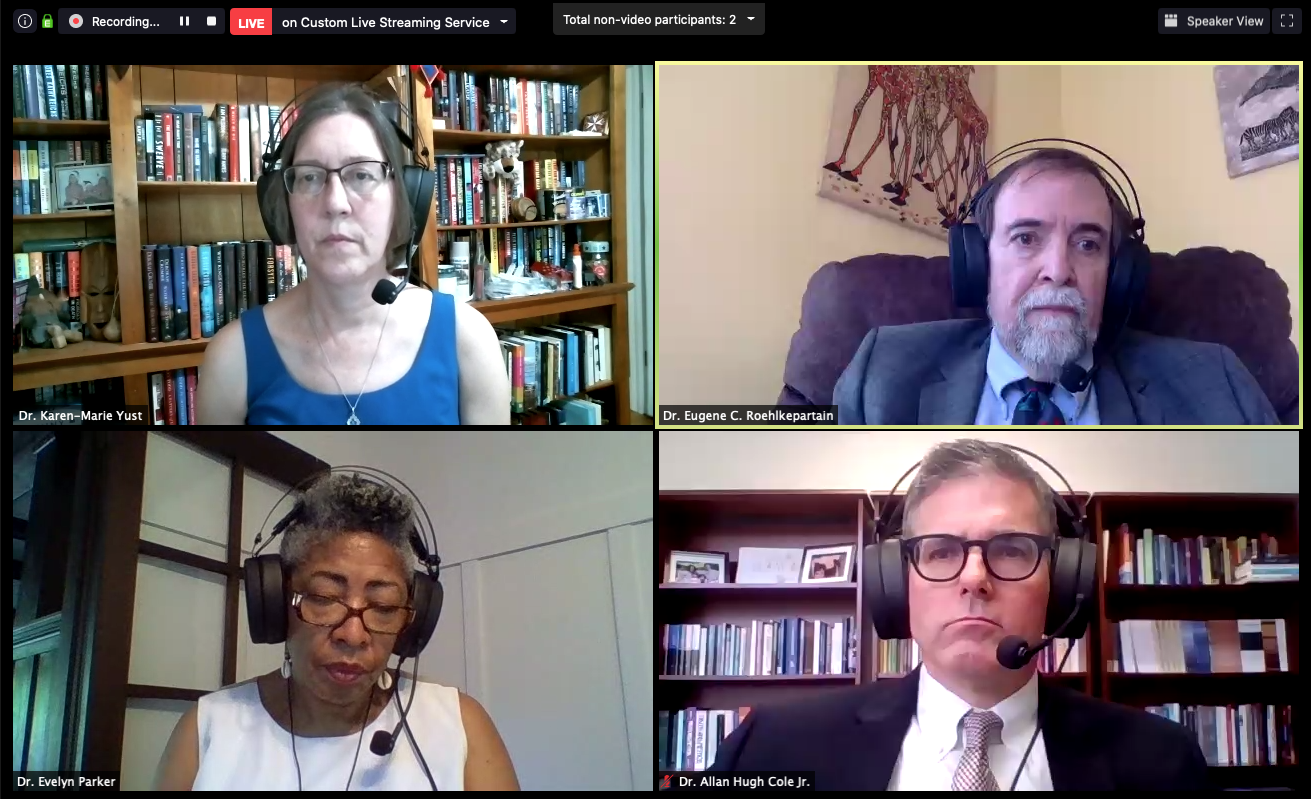 2020 Sprunt Lectures goes 'virtual' in early May                                                                                                  
Grace and peace to you in this season before us!
And what a season it has been, as our nation and world has 'sheltered in place,' when possible, has learned to practice 'social distancing' as a common endeavor, and joined with others 'virtually' via videoconferencing for meetings, family and friend 'gatherings' and for worship on a almost daily and weekly basis!
And that is exactly what we did for the 2020 Sprunt Lectures, in this historic year of renewed understanding of global community in the midst of the COVID-19 novel coronavirus pandemic.
Over 300 alumni, friends, students, faculty, and staff registered and attended all or part of our 'virtual Sprunt Lectures,' May 5-6, 2020 via Zoom Webinar.   See just some of the 'screen shots' taken throughout the event.  Dr.  Allan Cole, Professor and Senior Associate Academic Dean at University of Texas – Austin, Dr. Evelyn Parker, Professor of Practical Theology at Perkins School of Theology – SMU, Dallas, and Dr. Gene Roehlekepartain, Vice President at Search Institute – Minneapolis spoke on the theme: "Faith Formation with children, youth, and young adults in a multi-religious world." They also participated in a panel discussion moderated by Dr. Karen-Marie Yust, Professor of Christian Education for UPSem.
Preaching in our one service of worship was the Rev. Jessica E. Tate (M.Div. and M.A.C.E.'07), Director of NEXT Church.  The Rev. Amantha Barbee (M.Div.'11), Senior Pastor of Oakhurst Presbyterian Church in Decatur,  Hannah Garrity, a sacred visual artist in Richmond, and Doug Brown, Adjunct Instructor of Music at UPSem-Richmond also served as worship leaders.
It was a Sprunt Lecture series 'for the books,' that most of us will long remember!
Come join us for the Sprunt Lectures next May 3-5, 2021, here in Richmond!  Perhaps it will be offered on-line as well!  I sure hope so!
Clay Macaulay (D.Min.'85)
Director of Alumni Development
804-278-4382
We encourage you to send news of your life and ministry to the Alumni Associate, Nicole Smith, at alumni@upsem.edu.  We love hearing from you!  Also, check out our alumni web page at www.upsem/alumni