UPSem Breakfast at SBL-AAR Annual Meetings in San Diego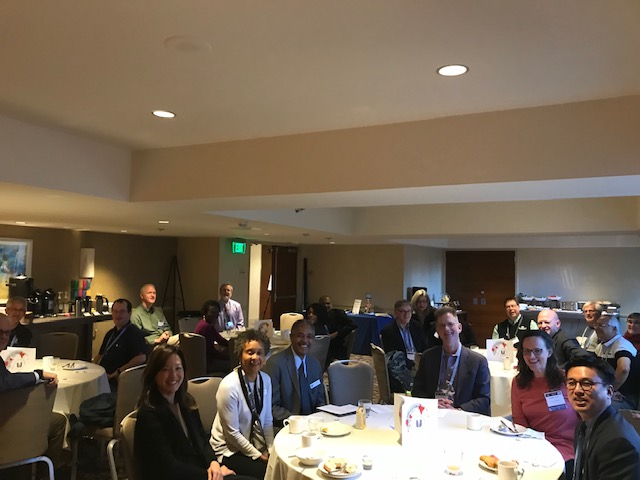 UPSem Breakfast at SBL – AAR Annual Meetings in San Diego
During the Annual Meetings of the Society of Biblical Literature (SBL) and the American Academy for Religion (AAR) in San Diego, CA, twenty-six alumni, spouses, faculty, students, and guests attended the seminary's breakfast on November 25, 2019.   Seminary president, Dr. Brian Blount, spoke "Mapping Our Future", providing an update on the seminary and its newly approved strategic plan – 2019-2024.  Faculty members Dr. John Carroll and Dr. Sam Adams also provided updates on current campus programs and publications.
UPSem alums opened and closed the breakfast gathering.  Mark Davis (D.Min.'86), Pastor-head of staff of the St. Mark Presbyterian Church, Newport Beach, CA, offered a welcome and invocation/blessing for the breakfast.  Dorothy Jean Weaver (Ph.D.'87), Professor of New Testament Emerita of Eastern Menonnite Seminary, Harrisonburg, VA gave the closing prayer and benediction.
Preliminary plans are being made for next year's breakfast to be held on November 23, 2020 at the AAR – SBL Annual meetings in Boston, MA.
Clay Macaulay (D.Min.'85)
Director of Alumni Development
12.11.19